Providing individual, couples and family counseling.
Treatment specialization includes: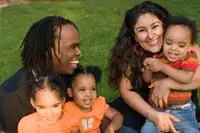 Therapy for Depression and Anxiety
Cognitive Behavioral Therapy
Solution Focused Therapy
Christian Counseling
Anger Mangement / Conflict Resolution for Individuals and Couples
Self injurious/High Risk Behaviors
Couples in Crisis Counseling
Pre-Marital / Enrichment Counseling
Family Counseling
Parenting Support
Grief Counseling
Work and Career Stressors
Stress Management
Trauma Recovery
Addiction & Recovery/Relapse Prevention
Life Transitional Issues
Treatment Mental Health Disorders

I work with a wide range of personal, emotional and behavioral issues providing services that span from therapy for crisis and conflict resolution, recovery and relapse prevention of addictive/compulsive behaviors, mental health disorders, anger and other mood management and trauma recovery. In a comfortable and supportive atmosphere, I offer a highly personalized approach tailored to each of my clients individual needs to help attain the personal growth they're striving for. I use sound directive, cognitive behavioral and solution oriented strategies, interfaced with faith based principles, to redirect and empower individuals and couples to find their way and move forward. If you are struggling on the road of Life's journey and have become lost, entangled, confused, wounded or weary and need a profession compass to find a more meaningful destination......I would love to help you !